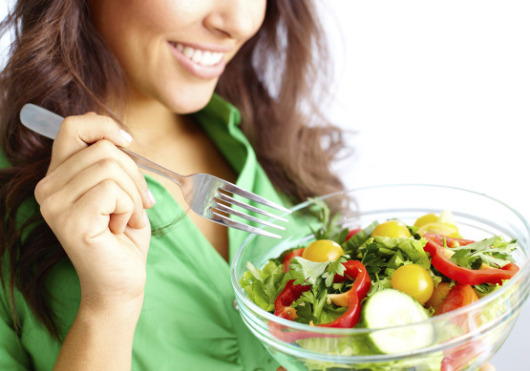 To help you decide whether health coaching is for you here are more key questions:

What are the benefits to you and your loved ones in being healthier?
How important is it that you achieve the results you want?
What is the cost in not taking care of yourself?
What has been your past history of independently achieving your goals?
How important is it to you to improve your wellbeing?
What value do you place on reducing stress, increasing your happiness, and learning how to take better care of yourself?
What is your current diet and lifestyle placing at risk?


If the answer is that you value your health greatly because you realise it gives you longevity, allows you to enjoy time spent on your passions and with family, allows you to stay fit and active for your loved ones and financially then it's time to invest in it. Make this your best year yet.

Where do I work?
I am based in Knutsford, Cheshire, in the UK but coach on an international basis via my Skype clinic (UK, Canada, Australia, USA). You will need to have an internet connection for Skype and an email address to receive handouts. Working via the internet allows you to be coached without having to rush to appointments across town, find parking and instead be able to sit in the comfort of your own home or at work.

I do offer, on a very limited basis, in person coaching (pricing is separate to that given below).

What diet will I have to follow?
Is it vegetarian, paleo, or vegan? I often get asked about which is the best diet to follow. The answer is you don't need to follow a diet unless a dietician has prescribed one for you. The besy way to eat is mostly whole foods based and one that fits your lifestyle in a positive way and works for you. That is what we will be working on together. As your tastebuds adjust, you will learn to add new foods. You will learn about how food can diminish fatigue, keep you youthful and ease bad moods.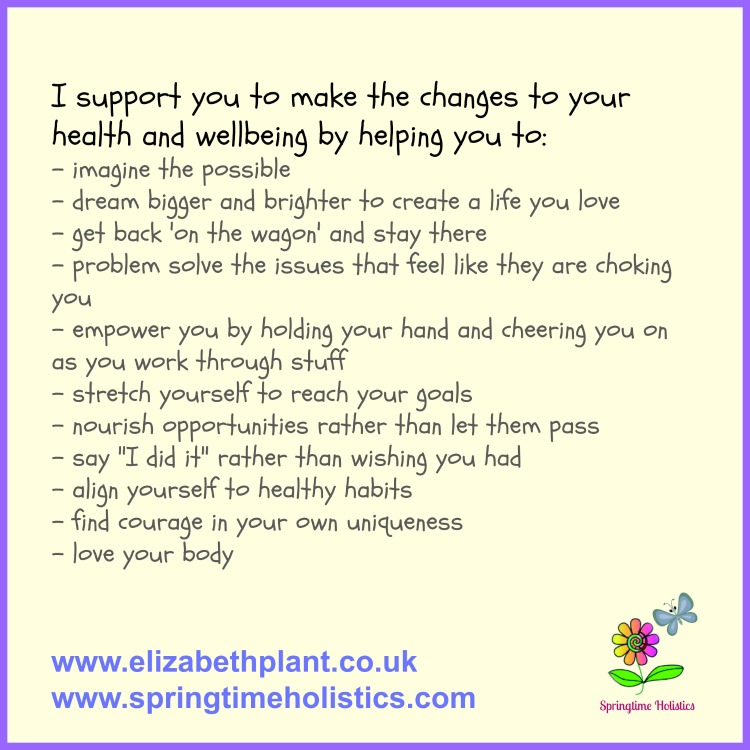 My Seasonal Programs
I have authored two Wellness Reset programs, for those who want to try a 7-day short do-it-yourself course.
Click through on the picture and you will be taken to my ebooks - one is for spring into summer and the other is for autumn into winter: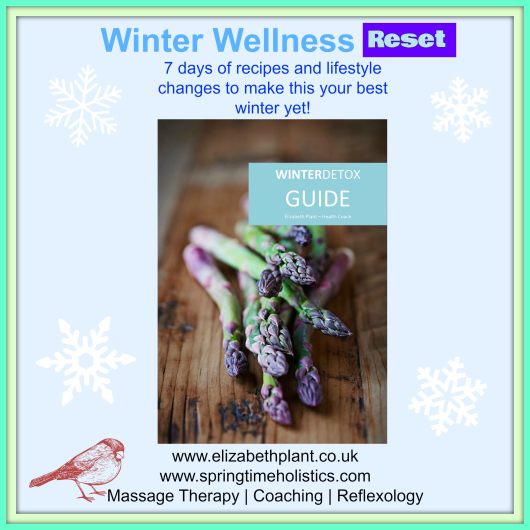 What is health coaching?

Start by answering these questions:

· Have you ever received good advice that you were unable to follow?
· Has your doctor or other healthcare provider ever recommended a lifestyle change that you found to be unsustainable or that you didn't even know where to start on it?
· Have you ever wanted something in your life, but found you couldn't achieve it alone?
· Have you ever wanted to improve your wellbeing but didn't know how to make that happen?

If your answer is yes then keep reading!

My health coaching training provided me with the knowledge you need. I provide ongoing support and accountability as you set goals and make sustainable changes that improve your health and happiness. I will ask you questions and listen carefully to what you say and help guide you towards healthy eating habits and determine what changes are necessary for you to live a more holistic lifestyle. We will evaluate your current eating and lifestyle patterns.

Your personalised program will explore concerns specific to you and your body and discover the tools you need for a lifetime of balance, while learning how to implement them longterm. You will not be placed on a 'diet'; there is no one diet that works for everyone nor is there a quick fix magic pill. Instead you will be inspired to learn which food works for you, making your journey holistic and encompassing all aspects of your life. As your Integrative Nutrition Health Coach I act as your guide and mentor who empowers you and provides ongoing support and guidance as you set goals and make sustainable changes that improve your health and happiness. Each session will leave you feeling inspired and motivated. We will talk about things beyond food, seeking to bring balance to important elements of your life such as love and relationship as well as career and money. I will personally and carefully guide you to make simple, small changes that transform your life.

As we navigate the world of contradictory nutrition and health advice together we will explore and implement what truly works for you.



My Mission Statement:
I teach exhausted people to enjoy their lives by managing their digestion and stress issues with selfcare, better food choices and lifestyle changes so they can stop feeling like zombies and feel energised instead. Together we work on creating healthy habits. I draw on my knowledge of health coaching and other modalities such as bodywork and stress management.
Together we will:
Connect the dots between who you are and who you want to be
Create your personal blueprint
Decipher your body's unique needs
Set your personal goals and work towards sustainable change
What you get on my programs:
Regular coaching sessions that keep you motivated
Email support between sessions
Simple healthy recipes and meal ideas
Handouts specific to your needs and goals and that will increase your own knowledge
Accountability
My personal commitment as your Integrative Nutrition Health Coach to your success in achieving your goal
Your guide on the side to support you make the dietary and lifestyle changes you want
Access to my newsletter with the latest health tips
Who do I work with?
I work with people including parents and caregivers, many of whom feel their lifestyle is compromising their wellbeing and who want to change to a healthier way of eating and a more sustainable way of living. I take a gentle but firm approach with my clients who often forget to nurture themselves in the same way they care for others. If you feel it's too hard to go it alone then how would you like to have me along on your journey as your guide on the side? Below are some of the client issues I have addressed in health coaching:
Women in their thirties and forties who want to be go from rundown and fatigued to feeling more active, energised and loving life
Extended breastfeeding mothers who are feeling under pressure to stop and want to keep going whilst getting sleep and having time for their own selfcare
Women experiencing PMS and who want to tame their 'inner werewolf'
Dog owners wanting to get fit for themselves and their pet companions
Men who need help to get their lifestyle from couch potato geek and pizza belly to feeling more 'superhero' and trim
Students who are living away from home and struggling to know how to eat well
My coaching programs are NOT suitable for you if:
You're unwilling to commit to a healthy diet and lifestyle
You're not prepared to change your unhealthy habits
You're not ready to do the work between coaching sessions
You don't value your health
You have symptoms that you have not checked with your GP/doctor
Cup of Tea Strategy Session
Would you like to know how health and wellness coaching can help you? Book a free 20-minute informal chat with me via Skype so you can find out more - get comfy with a cup of tea and pen and paper so you can make some notes. Simply use my Contact page to arrange your appointment.

Health Coach Discovery Session
Are you ready to change? During this one-to-one 1 hour Skype Discovery session, we will discuss your health and lifestyle goals. It's not only what you eat but also how you live, based on your health history form, to determine how I can best support you in identifying imbalances and how these can be dealt with. I will assess your needs and ask you a series of questions and we will work out what your goals are, what's stopping you from reaching them, and how I can support you to meet these.

By the end you will have established what your most urgent health priority is and at least 1 action step that you can work on immediately.

1. Schedule your Discovery session with me via my contact form.
2. Submit your health history form.
3. Invest and pay on this page at the bottom.

I will then contact you about arranging an appointment.

Single Follow Up Coaching Session
You've had your Discovery coaching session. You've worked through the action step/s and now you need to take things further. This single session allows us to work together and follow up on how and what you did and achieved and set into action more towards your goals.
All coaching programs give you accountability as you progress towards your goals. I offer you several choices of length of program.

2-week Kickstart Program
This short program, following from your Discovery session, is designed to give you an introduction to health coaching and help kickstart you to achieve your goals.
What's included:
2 x 50 minute follow up health coaching sessions (via Skype)
Email support between session 1 and 2


6-week Deep Dive Program
My Deep Dive program gets you to think and act on a deeper level to change your habits. It is for those who are ready to make real changes and who are ready to prioritise their self care and wellbeing. You are ready to invest in your life, and are prepared to commit the time and effort needed to get the results you want. Your excuses will start to drop away and your reasons for resistance will be explored. Your results will shift how you think about what is possible.
Your health coaching program is for six 1-to-1 sessions, once per week. Each session you will meet with me via Skype and each week you will be working on your goals and will take the action steps you need to make progress to get the results you want. I will provide you with the tools you need to take ownership of your health.
Areas covered may include, dependent on your own uniqueness, how to make better food choices, how to tackle sleep issues so you wake up feeling great, stress management and self care plus you will learn huge amounts about yourself.
What's included:
6 x 1 hour sessions (weekly via Skype)
Email support and homework between sessions
You will receive accountability throughout.


12-week Total Transformation Program
My Total Transformation program is for those who need longer term support. We will work on forming SMART goals and learn strategies on what and how to eat that work best for you. You will receive accountability throughout the program. I only run this with a select few clients per year.
Your health coaching program is for 1 session per week (12 in total, each lasting an hour and action steps homework between).
Here's just a taste of what's covered in my Total Transformation coaching program (your program will be adapted to your own needs and will include bonus sessions):
1. Why there is no one size fits all approach to food
- Simple steps to get yourself going straight off
- What foods to add in rather than depriving yourself
- Debunking nutrition myths - Bioindividuality
- Choosing food that works for you rather than against you
- How to create appetising and nourishing meals
2. Why movement that works for you is essential
- Gentle ways to ease enjoyable exercise into your life
- Functional exercise - make everyday life part of your routine with no need to spend hours in a gym (unless that's your desire)
3. Emotional nourishment and mindfulness
- Find your life rhythm
- Understand that mood affects your food and thoughts
- Learn to enjoy eating food without guilt
- How to manage cravings
- Discover how mindful eating patterns can change your overall wellbeing
4. Stress Management and Self Care
- How to manage stress with new strategies and tools
- Learn to prioritise self care
- Increase your energy levels by eating right for you
5. Planning and Scheduling
- How planning ahead and enjoying the now can optimise your health
- Learn how to eat in a way that suits your lifestyle
- Focus on actions that will allow you to achieve your goals